By-Election
14 October, 2016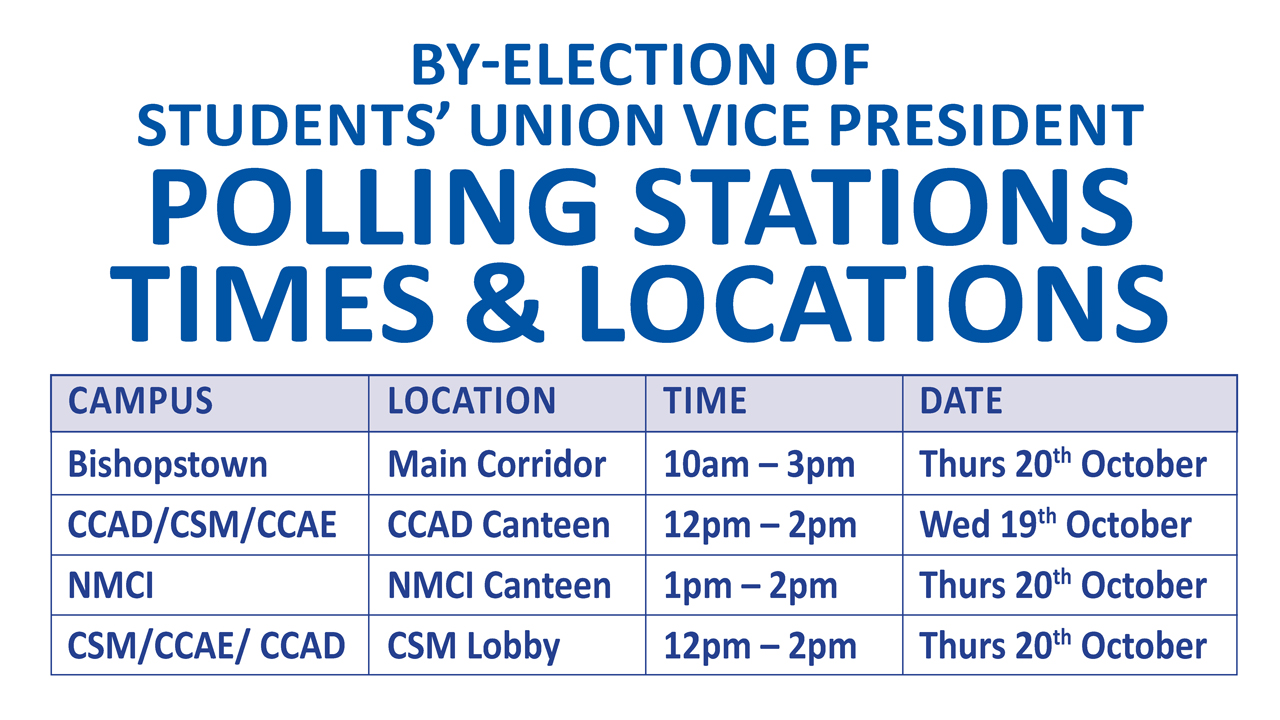 NOTICE OF STUDENTS' UNION BY-ELECTION
A By-Election for the Sabbatical (full time) Position of Vice President Education 2016-2017 will take place on Thursday 20th October 2016. Nominations Forms are available from the Students' Union Office.  For full details contact Vicky O'Sullivan, Deputy Returning Officer email Vicky.osullivan@cit.ie  or call to the SU Office. Nominations close at 5pm Friday 14th October 2016
Philip O'Reilly, Returning Officer
COULD YOU BE THE NEXT CIT SU VICE PRESIDENT EDUCATION OFFICER?
The Vice President Education is a member of the Union Executive which oversees the formulation and implementation of Union policies. The role of the Vice President Education is very broad and includes everything relating to academia;
building positive relationships and partnerships between Institute staff and students,
enhancing  student engagement to develop and improve quality in education,
managing issues around course delivery, timetabling and exams.
The Vice President Education meets with students on a daily basis to assist them with their educational issues. Some projects include student education campaigns and Class Rep training and organisation. The Vice President Education is a member of many of the Institute's boards including Academic Council, the Appeals Committee and the Student Disciplinary Committee.
WHAT ARE THE TERMS OF EMPLOYMENT?
Sabbaticals commence their paid full-time role at the SU on 1st June (excepting those who may commence their role following a bi-election) and runs until 31st May.  Sabbaticals are paid in line with the first point of the General Service Scale as per the Constitution.
The salary reflects a 39 hour working week (excluding lunch breaks). Working times will vary but Sabbaticals are normally expected to be in the office or at work between 9am – 5pm every weekday.
Sabbaticals may sometimes need to work later hours and at weekends in order to meet the needs of the role. Some flexibility regarding the 'working week' is therefore acceptable in order to meet the required hours of work, by prior agreement with the Sabbatical team and the General Manager.
Sabbaticals are primarily based at the CIT SU offices in the Students Centre.
RELEVANT DOCUMENTATION