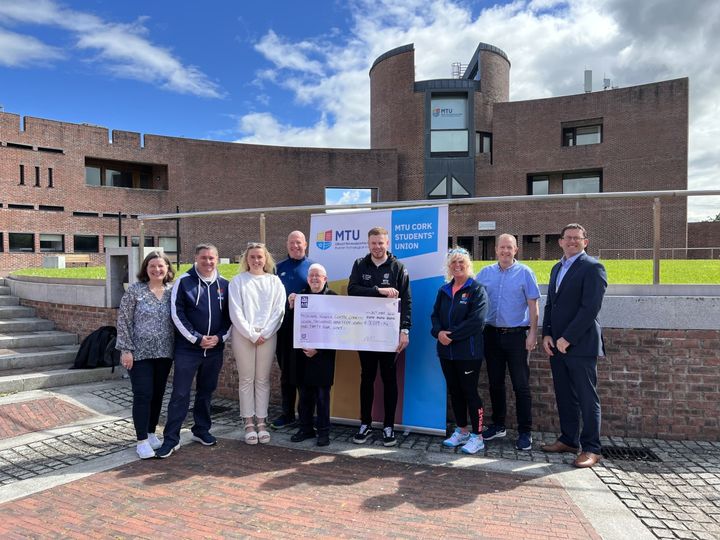 Raise And Give 2022 has been a great success and the generosity of students, staff and sponsors is very much appreciated.  Over €6,800 has been raised for the Sexual Violence Centre Cork.
A cheque was presented to Mary Crilly of the Sexual Violence Centre Cork on the 24th May, 2022.  Along with our MTU colleagues, we had the pleasure of inviting Karen Weeks, the first Irish woman to row across the Atlantic in 80 days, to present the cheque.
Special thanks must be given to our main sponsors, Campus Catering Service, AnSEO (Student Engagement Office), and Bank of Ireland – without their support Raise And Give could not happen. We also thank our other generous sponsors including those who provided the fantastic Rag Week Raffle prizes.
It was heartening to see students and staff, once more, enjoying LIVE events in the Student Centre and soaking up the festival vibe on campus. Well done to Mick O'Mahony, Entertainments Manager, who delivered a fantastic programme of events. The Dance Society organised a brilliant Variety Show with 50% of the proceeds going to RAG 2022 – well done and sincere thanks to the committee and the Societies Office. Eric Marah from the Sports Office organised a very successful RAG Soccer Tournament. The RAG Coffee morning hosted by the Tourism & Hospitality Department and sponsored by the Registrar's Office was very well supported by staff and students.
Special thanks to Keith Brown, Mella Leonard, Fiona Leddy, Cian O'Driscoll and Sinead O'Mahony for all their hard work behind the scenes.
The success of RAG 2022 can be attributed to the collaborative spirit in which it is organised by the Students' Union, Societies Office, Sports Office, Chaplaincy, Registrar's Office and Buildings Office. We are already looking forward to RAG 2023.