Raise The Roof
28 September, 2018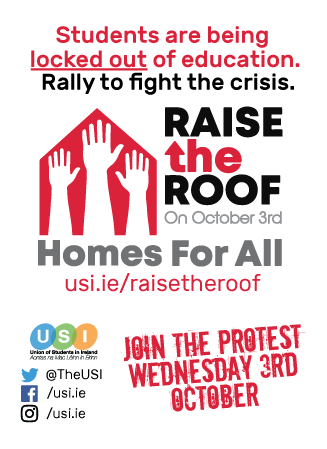 Spiralling costs. Rogue landlords.
27%+ increases to rent of student accommodation overnight.
Little to no deposit protection.
Damp, run down and regularly overcrowded conditions.
Box rooms with 2 beds.
Sleeping on friends couches.
Staying overnight in cars outside college.
Paying night by night in hostels.
€255+ a week or €1000+ a month.
Living out of hostels
Commuting 2+ hours to get to your first lecture.
…or not being able to attend college at all.
Students are footing the second highest fee in Europe for third level education, and we are being further locked out by the lack of, and cost of, accommodation across Ireland.
CIT Students union (CITSU) along with Union of Students of Ireland (USI) & all of the other students' Unions and student activists across Ireland are organizing a national protest in response to the housing crisis. CIT SU and USI along with trade unions, community groups, charities, women's groups and political parties are coming together in a show of solidarity that enough is enough. We are calling for an urgent response to the barbaric living conditions and price hikes that our students are experiencing. Our national student protest will join the rally outside Leinster House, and first, we are taking to the streets.
To join us, make sure and call up the our Students' Union offices to get your tickets. Tickets to the rally cost 3 euro with a 5 euro deposit which you will get back on the day. Tickets include return bus to Dublin and snacks for the journey.
We need to #RaiseTheRoof on the Dáil, and wake the Government up!